Larga Vista is located 2 miles from Benagil village and 5 miles from Carvoeiro town.
Benagil a small fishing village set in the cleft of a valley.
The village has a small beach and a number of excellent restaurants; serving local Portuguese dishes with excellent fresh fish and seafood.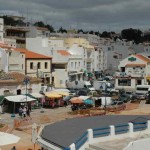 Carvoeiro is a small bustling town full of shops, bars and all manner of restaurants. Carvoeiro is popular with holiday makers so all tastes from local dishes to Indian curries and Thai meals are catered for.
The smallish beach is popular in summer and is surrounded by small shaded bars ideal for an afternoon drink or meal.
Carvoeiro is the nearest night life; from bars serving the latest footie matches to the odd disco.
But dont expect too much in the night life stakes Carvoeiro is by and large a quiet picturesque Portuguese town.
For those who like a good walk then below the villa in the bottom of the valley is a superb walk all the way to the sea (about 2 miles).
The walk ends at a beautiful secluded beach known locally as the Secret Beach (note the short steep path).
The Secret Beach is about 10 minutes walk away from Albanderia beach (see below); which has a car park.
Approximately 3 miles from the Villa is a lovely small beach called Praia da Albanderia; this beach has a large car park, as mentioned above, you can walk to this beach but it's a bit of a hike on a hot day!
Approximately 4 miles from the Villa is Praia da Marinha beach, this is a long sandy beach and the best beach in the area. The only drawback is the walk down to it from the carpark, but don't let this put you off, if you want a day on the beach then this is the beach for you!
The above beaches are both well off the beaten track and so are much quieter than those in Carvoeiro or the larger coastal towns/holiday resorts such as Portimao or Albuferia. These are only two of many beaches in the area and represent the fantastic choices that await you.
Close to the Villa (10 minutes by car) are two excellent water parks – ideal for the kids and a day out, both cater well for kids with burgers, hot-dogs and chips, etc.
It's worth saying that all the restaurants take children, they are well catered for and are all very welcome, if you don't see what they would like on the menu then ask and they will try to help. Everyone in the 'service' trade speaks fluent English so you shouldn't have any language difficulties anywhere on the Algarve!
About 15 minutes driving inland is the lovely town of Silves, famous for its castle, cork factory and restaurants; this is well worth a day out.
It's worth planning a day trip to have a nice lunch near the castle to enjoy the local food and views and then take in the castle and cork factory. Further afield along the West coast is Sagres, the most Southerly European point and the main embarkation point for many seafarers of yester years. Nice castle, stunning coastline views and good restaurants in the town.
Along the coast there are a number of excellent sites to explore; Albuferia for instance has been a popular holiday destination for many years, has a magnificent beach and worthy of a day out. For shopping then Portimao is a big town with lots of shops as well as beaches and small adjacent villages, again a good day out or evening night spot if that's your thing.
Finally, if golf is your thing then there are plenty of golf courses in the area, some world famous course such as Boavista, Vale do Lobo, Palmares, and Quinta da Ria with approx 30 others in the local area, the nearest golf course approximately 2 miles away is Vale de Milho Golf course which is a small attractive course. Of course the famous Vale da Pinta course is only 15 mins away. But if neither of these grab you; there are plenty more… Scuba diving and snorkeling is also popular also with Carvoeiro being the the main centre where you can book diving expeditions (beach or boat).